Featured Vacation Rental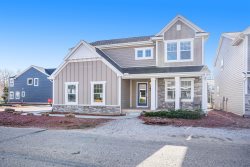 Bridgewater Cottage- A spacious South Haven cottage near beaches, sleeps up to 14 guests!
Guest Reviews
"Although there was no snow, we enjoyed the warmth of the house and seeing four deer right outside our window." The Jeschkes
"We celebrated our friend's 80th birthday with tons of laughter, great food and the best of friends in your wonderful home. We loved the huge table for great meals and lots of games and conversations!" The Chicago Friends
"Lake-effected snow winter wonderlands, ice skating in town, sledding down hills, warm fireplace...good times had by all!" The Termatts
"We have stayed many places through-out Michigan and this experience was by far the best......we will be returning. Thank you!" The Piltz Family
"The house is lovely and the town and area quaint and warm. Just what we wanted from a retreat location!!" The Riley Family
"Great family vacation! The house was great, accommodated all of our needs. We will definitely be returning." The Maloney Family
Guest Services
BlueWater Vacation Rentals- Guest Concierge Services

We want to make sure that your vacation is memorable and we are continuously updating the services we provide. If you are interested in a service that is not listed or for more information about our current services, please contact us at 269-906-9490.
Here is an overview of the many amenities and services available to our guests:
Outdoor Experiences
Hybrid Trek Bicycles
Kayaks
Stand-up Paddle Boards
Pontoon Boats
Speed Boats
Golf Carts
Transient Boat Slips
Ice Skating Passes
Fishing Charters and Sunset Cruises
In-Home Services
Mid-Stay Cleanings (multiple options available)
Linen Refresh Service
Crib Rental
King Bed Conversion Service
In House Personal Chef or Catering
Concierge Services
Luggage Assistance
Personal Shopper
Carwash
Car Detailing
Dinner Reservations
Package pick-up and drop-off
Scanning and emailing documents
Firewood Bundle Package
Beach Cart Rental
Early Check-in and Late Check-out Accommodations