Featured Vacation Rental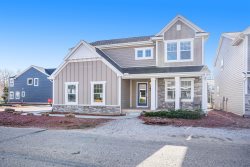 Bridgewater Cottage- A spacious South Haven cottage near beaches, sleeps up to 14 guests!
Guest Reviews
"Although there was no snow, we enjoyed the warmth of the house and seeing four deer right outside our window." The Jeschkes
"We celebrated our friend's 80th birthday with tons of laughter, great food and the best of friends in your wonderful home. We loved the huge table for great meals and lots of games and conversations!" The Chicago Friends
"Lake-effected snow winter wonderlands, ice skating in town, sledding down hills, warm fireplace...good times had by all!" The Termatts
"We have stayed many places through-out Michigan and this experience was by far the best......we will be returning. Thank you!" The Piltz Family
"The house is lovely and the town and area quaint and warm. Just what we wanted from a retreat location!!" The Riley Family
"Great family vacation! The house was great, accommodated all of our needs. We will definitely be returning." The Maloney Family
bluewatervaca.com - Link Exchange

We are always willing to exchange links with other websites with similar content that will benefit our users. We review all websites requesting a link and reserve the right to reject any web site that we think is not appropriate to be featured on our website.
How to Link to Us
Follow the simple steps below to exchange links with bluewatervaca.com
Choose the link you would like, copy the link code and place it on your web site.


Once you have created the link email us at [email protected] with this information:


Web site title
A brief description of your site
Web site URL address
The URL address where our web site is linked from



Once the link is confirmed we will add your link to our listings.
Copy Link and Paste into your Website:
Bluewater Vacation Rentals
We have the highest quality vacation home rentals. Our vacation homes are located in some of the most desirable vacation rental communities
Link Directory