Featured Vacation Rental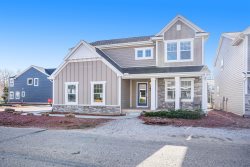 Bridgewater Cottage- A spacious South Haven cottage near beaches, sleeps up to 14 guests!
Guest Reviews
"Although there was no snow, we enjoyed the warmth of the house and seeing four deer right outside our window." The Jeschkes
"We celebrated our friend's 80th birthday with tons of laughter, great food and the best of friends in your wonderful home. We loved the huge table for great meals and lots of games and conversations!" The Chicago Friends
"Lake-effected snow winter wonderlands, ice skating in town, sledding down hills, warm fireplace...good times had by all!" The Termatts
"We have stayed many places through-out Michigan and this experience was by far the best......we will be returning. Thank you!" The Piltz Family
"The house is lovely and the town and area quaint and warm. Just what we wanted from a retreat location!!" The Riley Family
"Great family vacation! The house was great, accommodated all of our needs. We will definitely be returning." The Maloney Family
Pet Policy
Bluewater Vacation Rentals- Pet Policy
While many of our properties adhere to a strict "No Pets" policy, a select number of our homes welcome dogs and are advertised as "Pet Friendly."  This will be specifically noted on each property's information page and will be detailed within your confirmation.  Any guest found with a pet in a property that is not pet friendly will be required to vacate the premises without refund. This is strictly enforced.
Pet Friendly Properties: 
For your own comfort and for the comfort and safety of our homeowners and other guests, there are certain restrictions that must apply to Pet Friendly Properties: 
Size, Age, Number of Pets 
Pet friendly properties accept dogs weighing under 40 pounds and at least two (2) years old, with a maximum of two (2) dogs per property. "Visiting" pets are not allowed.

No Cats Allowed unless specifically requested and approved by the property owner.
Non-Refundable Pet Fee: 
A $50.00 non-refundable "Pet Fee" will apply to each reservation that includes a dog.  (This fee does not cover damage to the property or grounds resulting from a dog, including but not limited to: chewing, scratching, digging and unreported housetraining accidents.)
All local laws and regulations must be followed, and may vary depending on the location of your property. 
General Pet Rules:
Guests with dogs are asked to please respect the comfort and safety of other guests, both during and after your stay.  For this reason, we ask that you please follow these guidelines during your time with us:
Please do not allow your dog to bark excessively or to roam onto neighboring properties.  Many of our homes are located near residential neighborhoods, and we must respect the comfort and privacy of those residents.  Complaints may lead to eviction without refund. This will be at the sole discretion of Bluewater.
Please do not allow dogs on furniture or beds.  It is also helpful to bring something (bed, blanket, etc.) on which you know your pet will be comfortable sleeping. Just because you allow your pets on your furniture and beds at your home does not mean it is allowed in our rental properties. Extra cleaning fees will be charged for furniture, blankets, comforters, etc. that have pet hair left behind. This may include professional steam cleaning; usually resulting in charges above $200.
Please groom your dog, particularly if it is a breed prone to shedding.  Pet hair can be difficult to remove, and the next renter in your property may not have a pet. Extra cleaning fees will be charged for furniture, blankets, comforters, etc. that have pet hair left behind.
Please contact Bluewater Vacation Rentals by email at [email protected] or by phone at 855-255-6017 begin_of_the_skype_highlightingend_of_the_skype_highlighting should you have any questions.  
We are happy to recommend a kennel should you decide to bring and board your pet.