South Haven Public Beach Accesses Map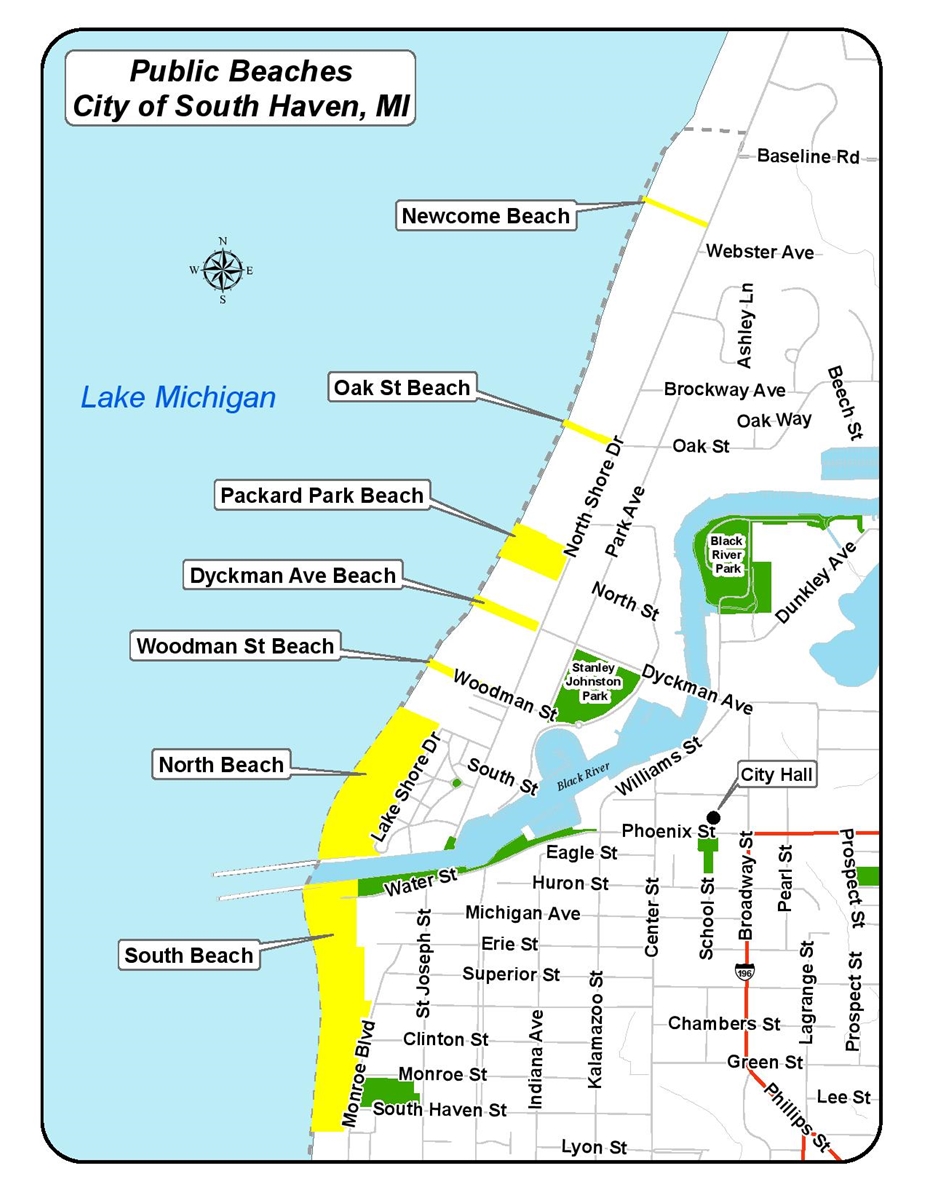 South Haven, Michigan is most popularly known as a quaint beachtown nestled on the shore of Lake Michigan. We encourage you to explore the multiple beaches this area has to offer.
North and South Beaches are the larger beach accesses which are most centrally located near downtown South Haven. They are also the most handicap accessible beach accesses in South Haven. Both have concession stands, restrooms, play equipment, and parking areas. The play equipment and picnic tables are formatted for handicap accessibility. South Beach has the big red lighthouse. North Beach is set up for volleyball games. Packard Park offers restrooms, grills and picnic tables.
The other beach accesses pictured above are more secluded and each location offers a unique beach experience (sandy vs. rocky, trees vs. open dunes, etc.) Oak Street Beach and Packard Park Beach are our reccommendations for groups traveling with children. There is less of a slope to the bluff of these beaches, resulting in fewer stairs and an easier departure after a day of fun in the sun with the kids. These beach accesses do not have the amenities that North and South Beach do. However, they generally also have fewer crowds!
Parking fees collected through the "park and pay program" are used to operate the beach cleaner, providing the public with the most beautiful and cleanest beaches in Southwest Michigan. To avoid fines, be sure to observe parking restrictions at the beaches. Street parking around beaches is free unless otherwise marked. Parking lot areas are paid, with parking stickers issued by City Hall. If you would like more information about Beach Parking Stickers we are happy to help. Exact up-to-date pricing and information for passes can be found
here
.
If you would like to schedule bike rentals, a golf cart, or beach carts (to walk and push/pull a cart with your supplies and chairs) for your trip to Lake Michigan to avoid the need for a vehicle parking pass you can do so by calling us at 269-906-9490. Our Golf Carts are already equipped with active parking passes!